Road links, the island of Pag
With car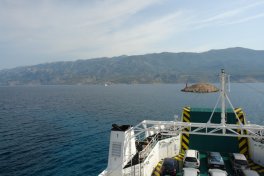 Trajekt Prizna - Žigljen
The island of Pag is very well connected to the mainland:
from the south island of Pag is connected by brigde .
from Rijeka and Senj by ferry (ferry Prizna-Zigljan).
Ferry Prizna-Žigljen during the season goes both during the day and during night, while in pre and postseason goes according to the timetable available at www.jadrolinija.hr
The distance of Mandre from bigger Croatian cities:
Zagreb – 321km (if coming to the Pag over the bridge) or 235km (by ferry Prizna-Žigljen);
Split – 207 km;
Rijeka – 147 km;
Zadar - 70km
Croatian Automobile Club - phone. 987, web: www.hak.hr
By bus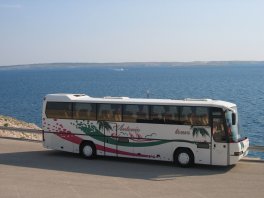 Antonioturs (+385 53 661 500)
The first big bus terminal is located in Novalja, 10 km from Mandre. During the summer season there is a large number of direct bus lines connecting Novalja with all major Croatian cities (Zagreb, Rijeka, Split, Zagreb, Varazdin, Pozega and others)
More related to the buses and their schedules can be obtained from the transport companies themselves:
Autotrans
AP Varaždin
AP Požega
The next larger bus station is in Zadar, 70 km away. Bus station Zadar - +385 (0)23 311 086, +385 (0)23 311 086; www.liburnija-zadar.hr
Air Connections
The nearest airport , is 60 km away from Mandre, located in Zadar. Airport Zadar - Zemunik .
Taxi service is available at the Zadar airport.
See connection
There are no direct shipping lines to Mandre but there are daily fast ship lines ( catamaran ) from Rijeka to Novalja. www.jadrolinija.hr
Taxi and car rental services